MEETINGS IN ITALY

AND ABROAD





6th INTERNATIONAL C1 MEETING
SUHL, GERMANY. From 25th to 29th of May 2006
Click

here to approve. We want to partecipate this year too! ;-)

5th INTERNATIONAL C1 MEETING.
SUHL, GERMANY, the 26th - 29th of May of 2005


Click here to see our images. C1 Modding

here.


4th INTERNATIONAL C1 MEETING.
SWISS, the 11th - 13th of July of 2004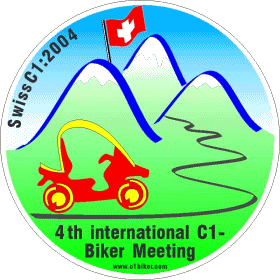 Click

here to read the "Diary on board"
of Stefano T. "Truzzman", and to see the new images of the C1 Guinness World record.
CONTACT US FOR OTHER INFORMATION SUBSCRIPT YOURSELF AT THE FORUM

CLICK HERE
If you want to participate fill up the FORM below, don't forget to write your city.
INSERT CORRECTLY YOUR EMAIL, OR WE CAN'T CONTACT YOU